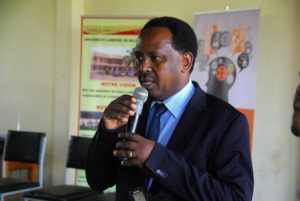 This Monday, March 4th , 2019 at the our Mutanga Nord campus,  the 2nd edition of the Light Award was
 solemnly  launched 
by the Vice Chancelor , Dr Déo NIMPAGARITSE.
The Light Award is an annual competition of entrepreneurial ideas for students and by students. This project was initiated by the University of Bujumbura Light and Spears Connect Group helps in the implementation of this project . Nevertheless other organizations like Empower Burundi and Jimbere Magazine and the US Embassy  Burundi are our partners in the execution of this project for this year.
This launching ceremony was attended by several students from different universities and localities including even those from the provinces like Gitega and Ngozi .
Among the distinguished guests who took part in the ceremony were the Grant Manager of the US Embassy in Burundi , a delegation of the European Union in Burundi, Mrs Gloria from INGO MAGAZINE, Mr Alain Nova from Empire Media without forgetting our panelist Mr Stepfan B. DOUKHOPELINKOFF .
The day was also an opportunity to launch the Light Award website (www.thelightaward.org) since that registration will be online and tits period is set from 4th to 20th March.
Recall that the Light Award was designed to unleash entrepreneurship in youth, putting them on the path of creating solutions to the problems of their communities, which initially will make them autonomous, job creator, and ongoing leaders of the process; thus contributing to the prosperity of the national economy. By rewarding the best ideas and / or projects financially, an appropriate coaching and follow-up, a free promotion and recommendations that will allow them to open opportunities as well as launch their entrepreneurial adventures.
Contrary to the previous year or we had only one category, this year we will have 3 categories   :
Social Innovation and Classical Entrepreneurship

Visual & Creative Art

Agribusiness .