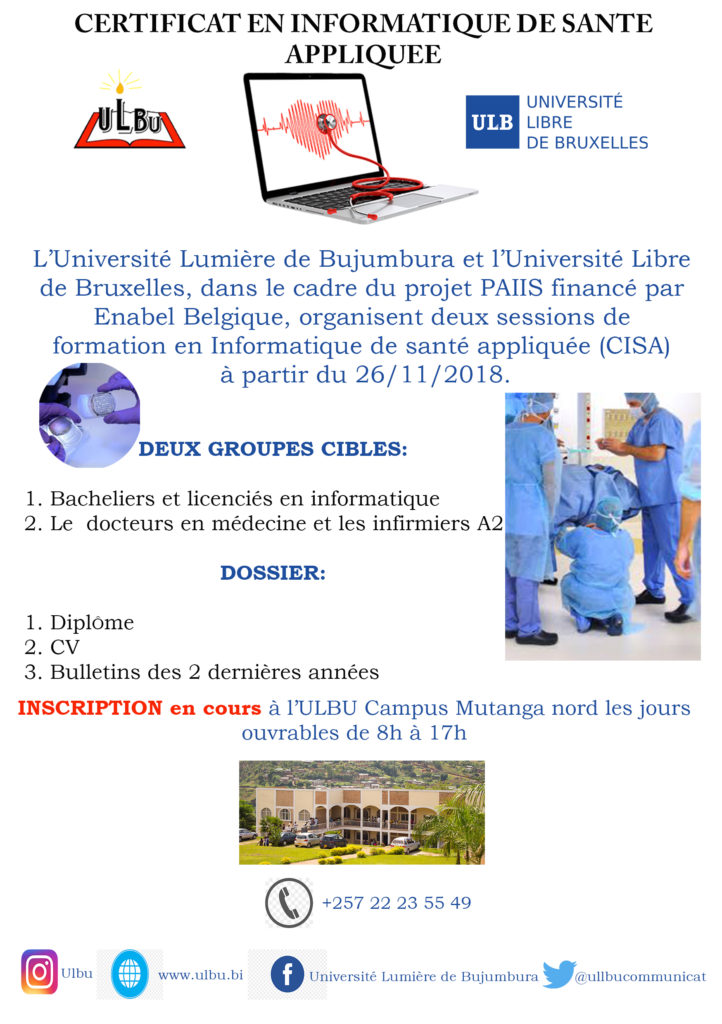 The health sector in Burundi has experienced in recent years a strong expansions in terms of computer applications for the management of health information. The Achilles tendon of the large-scale implementation of these complex systems, remains the computer and conceptual skills of the personnel of the health sector. There is currently a great need for training health professionals and computer scientists on the new era of technologies that flood the Burundian market.
To meet this need, theLightUniversity of Bujumburat, ICT4Development Grand Lacs and the African Center for e-Health Excellence offer a series of professional specialization training in the field of e-Health, as an Applied Health Informatics Certificate. (CISA). These trainings will focus on building concrete and practical e-Health skills on applications that are actually used in the health sector in Burundi and in the sub-region.
Course Organizations
Classes are organized in 6 face-to-face sessions, each time for 1 to 2 weeks at the ULBU campus Kinindo, in a computer class specially equipped for these courses. After each session, practical assignments will be given, followed by an evaluation by the teacher and his assistants. Together, the 6 sessions will cover 15 modules of which 13 are mandatory and part of a core curriculum and 2 to be chosen from the operational modules.
Modules: Common Core
Organization of the health system
Health information flow
Protection of privacy, security and medical ethics
Common applications in the health sector and their objectives
National Health Informatics Development Plan
Basic hardware knowledge
Computer Networks
Data base
Application architectures
HID-2
OpenClinic GA
Ikirezi
Management of computer-assisted maintenan
Optional courses
ICD-10 classification (Diagnostics)
RxNorm and ATC Classifications (Pharmacy)
LOINC Classification (Laboratory)
Tariff Nomenclature (Finance)
Schedule
3rd to 7th December 2018, 14th to 18th January 2019, 4th to 15th February 2019, 18th to 22nd March 2019, 1st to 5th April 2019, 22nd to 26th, May 2019
Registration
University of Bujumbura Light, Agricultural Road No. 24, Bujumbura, tel. +257 22 23 55 49