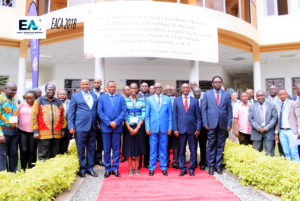 The Lights University of Bujumbura hosted at its Center for Conference and Scientific Research, the 8th Annual Conference of the East African Communication Association (EACA). The theme for this year is "Media and Democracy in East African Countries". The opening ceremonies were enhanced by his Excellency the 1st Vice President of the Republic of Burundi, Mr. Gaston SINDIMWO, the Mayor of Bujumbura, the Minister in charge of ECA Affairs, the representatives of local universities and the EAC, representatives of consular and diplomatic corps accredited in Burundi; media representatives, students, etc. After the welcoming and presentation of delegations by the Vice-Rector of ULBu in charge of development and cooperation Mr. Yves NDAYIKUNDA who is also the President of the organizing committee of the conference, Dr. Déo NIMPAGARATSE Vice-Chancellor of ULBU welcomed participants from the EAC region and abroad, he wished them to feel at home to enjoy the delights of Burundi.
The Chancellor of ULBU, Reverend Canon Paul NTUKAMAZINA, in his speech, he highlights the importance of such a conference, for the University in particular and for the country in general.
Speaking soon, the President of EACA, Dr. Monica B. CHIBITA congratulated Burundi and the University of Bujumbura for the warm welcome that Burundians have been showing since their arrival. She also appreciated the quality of the organization and the efforts that the ULBU put there because it is the first time in the history of the EACA that they receive a Vice-Present, a Mayor of the City, the ministers and rectors of the Universities in their conference.
The 1st Vice-President of the Republic of Burundi, in his opening speech, began by congratulating ULBu for accepting to host and organize this 8th EACA Conference and encouraged the others universities to do the same in integration into the EAC. He further pointed out that compared to what is being said about Burundi in the world through media, the reality is totally different and they can see by themselves.
Burundi is peaceful, people live in good relationships. So as guests from ECA and other countries have noticed, He asked them to good ambassadors of Burundi when then will get back in their respective countries. As the theme of this 8th  conference is "Media and Democracy in East Africa",  everyone who spoke made it clear that the ideas that will be shared during the conference will enlighten media and communication stakeholders in their daily work. They should be models of other actors of democracy, peace and development; attending this conference is a good opportunity to interact with other professionals and experts in the field of communication and the media. After the solemn opening, the activities continued in plenary sessions, parallel sessions and panels.