The Light University of Bujumbura has a great pleasure and a great honor to present you its new Vice Chancellor Dr. Yves NDAYIKUNDA, PhD.
He becomes the fifth Vice Chancellor that Ulbu has known since its creation in 2000. The particularity lies in the fact that it is a laureate of the Light University of Bujumbura (2nd promotion of 2001). After graduating with a degree in Communication Sciences at Ulbu, he pursued his studies in Media and Communication at Louvain-la-Neuve in Belgium for his Master's then after he obtained his Doctorate in Kenya at Daystar University
.
The new Vice Chancellor was introduced by the Rev. Canon Paul NTUKAMAZINA President & Legal Representative of Ulbu. Before welcoming the new, he first thanked the outgoing Vice Chancellor Dr. Deo NIMPAGARITSE, PhD for his dedication to the service of the University. During his tenure, he insisted, Ulbu was ranked first in various fields among the country's other private universities. Finally, he wished the new Rector welcome and full success. He also expressed his satisfaction that Ulbu has grown to trust one of its laureates as Vice Chancellor. This is a sign that we believe in the quality of our laureates whether they are the ones working here or elsewhere, he said.
Taking the speech, Dr. Yves began by thanking God for this great honor. He also thanked the governing bodies of Ulbu for the trust and honor of running an institution in which he was been a student and served for 13 years. He also said his priorities will be to make Ulbu a place of opportunity, fulfillment and pride for students and employees. To achieve this, he said he will insist on professionalism, innovation, academic & applied research, rigor at work, communication, valuing diversity and prayer as Ulbu proudly assumes its Christian identity. Finally, he is committed to launching the association of Alumini of Ulbu because the time has come for the current and former laureates to get involved in the development of the University.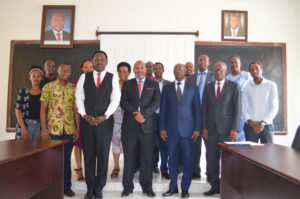 The ceremony took place at Ulbu Campus Mutanga and ended with words of congratulations and commitment of the collaborators to work in the direction of continuing to raise the banner of Ulbu higher.